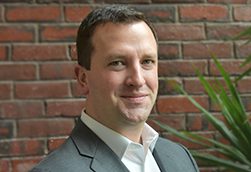 Over the 20 years of his career, Adam Jennings has had a range of experiences, from refueling a nuclear aircraft carrier to installing PV systems and consulting on environmental design. This variety of work has allowed Adam to realize that most problems have multiple solutions and has led him to become very flexible and collaborative when working with other disciplines.
Inspired by the successful completion of projects, Adam always listens to the needs of clients and enjoys working with them to find the ideal solution. For instance, he brought his expertise to the implementation of a photovoltaic-thermal hybrid solar system in Boston, which was the largest rooftop hybrid installation in the United States at the time.
Now serving as Energy, Sustainability & Commissioning Department Manager, he makes sure to find time to learn new skills to better serve clients. He is a Certified Energy Manager, LEED BD+C & ID+C accredited professional, a WELL accredited professional, and a Certified Building Commissioning Professional. Adam holds a BS in Mechanical Engineering from Boston University, an MS in Engineering Management from Old Dominion University, and an MBA from Boston College.
Expertise
Affiliations
Association of Energy Engineers - Vice President