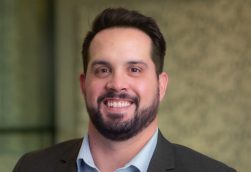 Over the 13 years of his career, Adam Murrietta has focused on bringing new life to the field of plumbing engineering.  He has been involved in projects of all types, ranging from academic to industrial.  As a problem solver by nature, Adam thinks outside of the box to consistently deliver innovative and efficient design solutions for all of his clients.
Inspired by collaboration, Adam encourages solid communication between the members of his team and always works well with other disciplines. His solid contributions allow for the successful completion of large projects, including the NCR National Headquarters, which has served as an amazing addition to the Atlanta skyline since its construction in 2017.
Now working as Plumbing Director in the Atlanta office, he enjoys mentoring the younger engineers, motivating them to build on their strengths and grow from any challenges.  Adam holds a BS in Mechanical Engineering Technology from Southern Polytechnic State University. He also has a Professional Engineer (PE) license.
Education
Kennesaw State University
Bachelor of Science
Mechanical Engineering