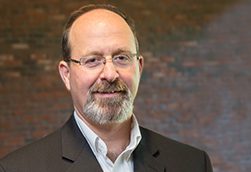 Since 1983, Bob Parker has worked diligently with both clients and his fellow engineers to ensure that all the expectations are met for every project. Now serving as HVAC Department Manager, he has been involved in projects of all types, ranging from corporate to mission critical. Bob is a problem solver by nature and understands how to avoid issues that could derail a well-engineered system.  He provides practical solutions and collaborates well with other disciplines.
Inspired by new challenges, Bob applies his many years of expertise to his position as Mechanical Department Manager.  One of his favorite projects to work on was the Blackfan Research Center in Boston.  The project was the first of its kind and required a particularly large number of complex HVAC systems. The high-rise lab/office building completed construction in 2008 to much praise.
Bob holds a BS in Mechanical Engineering Technology from Northeastern University.  Over the course of his career, he has been responsible for a total of over 10 million square feet in successful projects.
Expertise
Education
Northeastern University
Bachelor of Science
Mechanical Engineering Technology
Northeastern University
Associates Degree
Architectural Engineering Technology
Franklin Institute of Boston
Associates Degree
Architectural Engineering