AHA's integrated, multi-service team delivered a high efficiency, well designed, fully operational core and shell office building to its owner and developer, Tishman Speyer. Three Alliance Center is a new 525,598 SF, 30-story office building with 10 levels of parking (4 below grade), and is the first high-rise Class A office space built in Atlanta since the recession.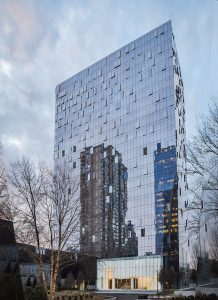 Our MEP/FP Engineers, Commissioning Agents, and Energy & Sustainability Specialists, in collaboration with Tishman Speyer, who's deeply rooted sustainable corporate culture aligns perfectly with AHA's, worked to reduce the new building's energy consumption. Through a systematic review of equipment efficiencies, availabilities and lead times, initial budgets vs. operational costs, and leveraging our expert Commissioning Agents' institutional knowledge of we found the most functional, reliable, and efficient systems.
The HVAC system consists of a water-cooled variable, air volume air conditioning sized at 64 tons for each floor and connected through a medium pressure duct loop to fan-powered terminal units for perimeter heating and cooling. A single variable air volume (VAV) per floor is dedicated for cooling of the core areas with downstream, low-pressure duct and air distribution devices, which maintains a comfortable 40-50% relative humidity; thus delivering 2565 cfm or 0.10 cfm/sf of outside air through VAVs, filtered at the entry point, preserving NC-35 noise criteria ensuring good indoor environmental quality. Additionally, our supplemental cooling system, with a capacity of five tons per floor, allows Tishman Speyer the flexibility to lease space to multiple tenant types.
We put energy usage into Tishman Speyer's, and their tenants', hands through the state-of-the-art building central energy management and direct digital temperature control system with occupant adjustable temperature sensors that display space temperature and activate after-hours HVAC and lighting levels. The choice for the core and shell lighting controls were specifically chosen for their user friendly and energy efficiency features. A further demonstration of Tishman Speyer's commitment to sustainability was to the owner's pledge to purchase Renewable Energy Certificates equal to 35% of the building's annual core and shell electricity usage.
As a feature to attract high-tier tenants to Three Alliance, the electrical system connects to the primary utility circuits underground, providing the most reliable electrical utility service in the already highly reliable "Buckhead loop". The building's emergency power system is provided via a 750kW diesel-fired generator with fuel capacity of 660 gallons, for 12 hours of continuous operation at 100% rated power output. The tenant electrical submeters are digitally networked with intelligent meter hubs. As a result, tenants know their data and equipment are safe even if the power goes out.
We employed the latest water reduction technologies in our choice of plumbing fixtures, and delivered a space where 40% less water is consumed than other comparable buildings. Furthermore, an underground cistern was constructed to create a rainwater capture basin and store gray water to meet 100% of the Tishman Speyer's irrigation needs.
The fire protection and alarm systems ensure occupant safety with smoke detection and notification alerts throughout the building. Duct smoke detection is provided within 5′- 0″ of each shaft wall penetration. The fire alarm power supply allowed for ample space to accommodate initiating devices and a building-wide emergency communication system connection capability.
Due to our collaborative approach, including frequent and detailed coordination throughout the planning and design phases as well as construction, our Commissioning Agents noted minimal issues during site visits and functional testing procedures. This result is directly attributable to the communication between our in-house team members.
The effort of AHA's MEP/FP Engineers, Commissioning Agents, and Energy & Sustainability Specialists ensured that Three Alliance Center achieve maximum energy efficiency; thereby the estimated to reduce overall energy costs by 13% and has been recently awarded LEED Gold CSv2009.